Research and Development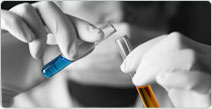 CBL goes by the principle "quality improvement comes through simplification of design, manufacturing, layout, processes, and procedures"
Read More...
Services
Manufacturing Facilities
| | |
| --- | --- |
| • | R & D Centre at Mallapur, Hyderabad for Process Development |
| • | Multipurpose pilot plant [Unit 1] for small quantities for process establishment [10 KL capacity with clean rooms] at Mallapur, Hyderabad. |
| • | A Multipurpose plant at Bidar - Unit II - 33 KL Capacity [Karnataka 120 kms from Hyderabad airport] spread in 5 acres of land for making key and advanced intermediates. Clean rooms are underway. |
| • | Multipurpose synthesis plants at Bibinagar Unit III - 38 KL capacity [45 kms from Hyderabad Airport] with Clean Rooms in about 20 acres of land. |
API Project
Planning to set up an API plant - Two Blocks of 80 Kilo Ltr each , at Bibinagar adjacent to Unit III - meeting USFDA and EDQM Standards in 2012-13.
Systems
Quality & Safety is in DNA of Chiral Bio. A Small company in its nature but always working on to set up Quality Management Cell [QMC] comprising Quality Assurance, Quality Control, IPR and Regulatory Affairs, although it is considered to be a different function altogether. The Company has taken cognizance of the stringent patent regime and a team of scholars have been indulged in trying to develop non-infringing processes for its products.
The Company has already filed a DMF for one product and is in process of preparation and filing of DMFs for other products.
The Company has plans to implement LIMS [Laboratory Information Management Systems] after implementation of API Project.
Business
Manufacturing advanced intermediates of Anti Retroviral, Anti Hypertensive, Anti Diabetics and other Drugs as well. The business turnover for the year ending 2010-11 is about US$ 10.00 million. Our clientele include major multi-national generic players.
Human Capital
The Company has more than 150 strong minds with relevant technical expertise at various levels in handling the respective functions..
CRAMS
With the above strong infrastructure, the company is evolving its strategies to undertake Contract Research & Manufacturing Services in the areas of Chiral and other Technologies.
Manufacturing systems