Research and Development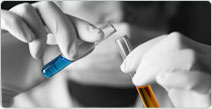 CBL goes by the principle "quality improvement comes through simplification of design, manufacturing, layout, processes, and procedures"
Read More...
About Us
Headquartered in Hyderabad - India, Chiral Biosciences Limited is one of the fastest growing companies in the area of synthetic technology and of Chiral compounds. Harnessing a combination of extensive expertise and latest technology, Chiral Bio Sciences offers quality products and solutions that are innovative/different and cost-effective, catering to the rigorous and wide ranging requirements of customers in the industry.
Chiral Biosciences embodies the vision of a top notch player in developing and commercializing products catering to a variety of therapeutic categories. The Company presently manufactures advanced Drug intermediates for ARVs [Anti Retro Virals], Anti Hypertensive [SARTANS], Anti Diabetic etc.
All the scientists are seasoned. Committed to innovation, they adept in developing and working a safe and economic processes. Chiral Biosciences presently has R & D Center with attached Pilot Plant and two commercial production units - totaling 80 KL capacity. It follows and maintains good manufacturing practices.
A state-of-the-art manufacturing unit consisting of two production blocks of 80 KL each, meeting all the International Regulatory Requirements, is being planning and would be ready in 2013.
R&D Center also being and will be scaled up to higher levels / standards. Chiral Biosciences is working with well-developed customized manufacturing processes supplementing with its research capabilities by ensuring sustained availability of consistently high-quality products with possibly short delivery times and respond effectively to the ever-changing demands of our customers.

Quality Policy
Chiral Biosciences Limited is committed to:
| | |
| --- | --- |
| • | Resolutely meeting the customer's requirements |
| • | Comply with requirements and continually improve the effectiveness of the quality management system |
| • | Establish and review of quality objectives and continuing suitability for sustained growth |
| • | Assuring appropriate training of our employees for quality performance |
Task 2015
• To have facilities with 2-3 approvals.
• Establishing Bio Lab
• Broad basing clientle to 10 nos with 2 Originators
• World's Chiral Category Master
Business Partnering